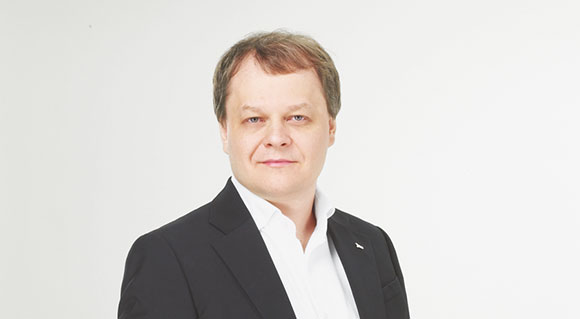 Andrei Gusev
2011 was a year of positive change for X5 Retail Group. We executed successfully on our three critical priorities: opening organically a record number of new stores, integrating the largest acquisition since the Company's founding and strengthening X5's focus on efficiency and cash generation. The Company's total net sales increased by 37% to USD 15.5 bln and EBITDA exceeded USD 1.1 bln for a healthy margin of 7.3%. Net income increased to USD 302 mln, producing an improved return on equity(1) of 14%.
We are making changes to transform our business for future success and equip X5 to grow sales and profits in a more efficient and competitive retail sector. I believe we made solid progress in 2011, and there is significant scope for improvement to deliver on X5's potential and capitalise on Russian consumer growth trends. In this report, we have outlined our plans for building on the Company's powerful advantages in order to win customers, drive growth, sustain margins and deliver meaningful increases in net income and return on equity in 2012 and beyond.
2011 Performance
In reviewing X5's performance this year, I would like to focus on a few key themes:
Sales and traffic grew by a third: Shareholders should consider total sales and customer visits as key success indicators in a period of rapid expansion. I'm proud to report that X5 maintained its position as Russia's number one etailer in terms of sales and grew sales and traffic by more than a third in 2011. Our stores attracted over 1.6 bln customer visits – a 35% improvement year-on-year and the biggest traffic increase of any Russian retailer – underscoring the customer appeal of X5's formats.
Gross retail sales increased 32% in RUR terms, driven by a 6% increase in like-for-like (LFL) sales, a 12% increase from organic store expansion and a 14% contribution from acquired Kopeyka stores. Top-line growth was 8% below the Company's initial 2011 sales outlook, however.
For the first half of 2011, LFL performance stood at double-digit range but there was significant deterioration in the third and fourth quarters due to a hesitant consumer spending environment as well as traffic redistribution from older stores to newly opened ones. This redistribution eff ect is to some extent inevitable as we increased the managed store base by over 65% during the course of 12 months. Nevertheless, sales in the second half of 2011 were also impacted by disruptions in the transition to a new multi-format organisation and the Kopeyka integration process. We were also not able to maximise promotions due to shortfalls in volume commitments for the vendors and communication with the customers. We are currently addressing these issues and improving performance in these areas.
Our focus on cash and margins paid off: X5's profit margin and bottom-line performance this year gives me confidence our team is fundamentally on the right track. We strengthened our financial organisation with the ultimate goal of generating more cash from the business. In particular, we worked to localise pricing policy and obtain better terms from regional suppliers in order to support gross margin and improve the Company's working capital position. In addition, we successfully undertook a range of cost control and productivity improvement measures to off set upward pressure on operating costs resulting from the Kopeyka integration and declining sales densities during the second half of the year.
Thanks to these eff orts, operating cash flow more than doubled, which is a healthy achievement on the back of 37% top line growth. Our EBITDA totaled USD 1,130 mln, which represents a healthy EBITDA margin of 7.3%. Net income amounted to USD 302 mln in 2011 and I am pleased to note that as a result, return on equity increased to 14%, double the level of just three years ago.
Our development team did a great job in managing capital expenditures (CapEx) in a critical year for execution of our organic growth capabilities. CapEx of RUR 27 bln was well below our RUR 35 bln plan for 2011, first because the Kopeyka integration was completed at half the initial projected cost without compromising on quality; second, thanks to better terms from contractors on store equipment and other services; and third, in 2011 we relied almost entirely on organic new store additions as opposed to historically high share of M&A deals, lowering overall expansion costs.
Moreover, these investments were 100% financed internally through operating cash fl ow, demonstrating how efficiency and cash generation support our ability to grow aggressively while strengthening X5's balance sheet. The Company's net debt/EBITDA ratio has declined from 3.7x by the end of 2010 to 3.1x by the end of 2011. We also improved X5's financial position by fully refinancing our remaining US dollar debt in Russian rubles. This move is expected to reduce risk for our shareholders by minimizing the impact of USD/RUR exchange rate volatility on X5's future financial results.
Record store additions and enhanced platform for growth: X5 increased its store footprint to more than 3,000 stores (or 1.7 mln square meters (sq. m.) of selling space) and we demonstrated strong execution on our expansion plans and the integration of Kopeyka. We opened a record 577 net new stores organically, well in excess of the 540 stores targeted in our CapEx plan. In all, we added 526 soft discounters, 20 supermarkets, six hypermarkets and 25 convenience stores. New stores are a major growth driver for X5, but their contribution to 2011 results was relatively modest as most opened in the final months of the year and were still ramping up sales.
We also converted 616 Kopeyka stores to X5's formats – 607 rebranded as Pyaterochka soft discounters and nine as Perekrestok supermarkets. The integration of X5's largest acquisition ever was completed by the third quarter of the year, and stores converted in the first part of 2011 were delivering solid double-digit sales growth as of Q4 2011. The Company is now realising substantial synergies, including upside in sales densities as rebranded stores ramp up to X5 performance levels, as well as benefits from our larger purchasing power and efficiencies from administrative restructuring.
This expanded store base could not be managed efficiently without the requisite investment in IT and logistics infrastructure. In 2011, X5 expanded its warehouse capacity by a net 118 thousand sq. m., including integration of five Kopeyka distribution centres (DCs), to provide a backbone for scaling our presence. We also made significant progress with the rollout of our SAP platform as part of X5's IT systems transformation. The next step will be to introduce cutting edge software in various parts of our supply chain, and other systems for analysing efficiencies and increasing profitability throughout our business.
Transforming X5 for Long-term Success
The changes we are making flow from management's strategic view of how the Russian market will develop over the next few years – and the near-term imperative to compete for customers and improve bottom-line performance to increase shareholder value.
Russia is one of the world's most exciting and fast-growing consumer markets. Growth has been led by consistently rising income levels, especially in Moscow and St. Petersburg and now increasingly in other regions. The opportunity for major retailers is even more compelling as the modern trade channel grows its share of what is still a very fragmented market. X5 is the number one player in terms of sales, but we still only account for 6% of the total market – and the top 10 retailers, including X5, represent only 20% of retail sales in Russia.
That's a bright picture but it does not tell the whole story. We see three overall trends in Russia and we will need to stay ahead of the curve if we are to be successful. First, consumers have become much more discerning about where they shop and what they buy, and retailers have to work harder to offer the right assortment, value and shopping experience for various segments of the market. Second, the market has gotten more competitive and costs are rising as well, and we have to continuously increase efficiency across the entire Company. And third, the next few years will be characterized by aggressive expansion of retail space and sales volumes by the largest retailers, and we need to keep pace to grow our market share and secure the advantages of larger scale.
I believe the Company is in an excellent position to grow and seize new opportunities, and we will continue to invest in building unique competitive advantages. As I said, we also see considerable scope for improvement to deliver on X5's potential. To this end, we recruited senior executives with a good mix of Russian and international retailing experience and promoted talented managers to strengthen control over our business, including format offerings and supply chain management, in order to take us to the next level in managing the expanded scale. This transformation, which will help us connect with customers, grow our leadership and deliver sustainable, profitable growth, is underpinned by three basic goals:
Successful formats and customer-centric mission: Our ultimate goal is to be the shopping destination of choice for customers in each of our formats. We can do a better job of engaging with our customers by offering new services and assortment choices. The response to our new-generation stores has been strong, and there is considerable interest in our new E5 online ordering service, which enables customers to select from over 300,000 items – electronics, books, audio, video, household appliances – and pick them up at their preferred store. We are also making fundamental changes in how we approach purchasing, category management, market research and supplier relationships, to power our customer-centric retail mission. X5 will also assert its price leadership, with stronger promotional activity, and support it with marketing communications to give customers clear reasons to shop at our stores.
Expanded market leadership and economies of scale: We are planning a step-up in organic expansion to generate billions of dollars' worth of additional sales volumes. Over the course of approximately the next three years, we expect to increase selling space by at least 50%. The next major growth story for X5, besides the Moscow and St. Petersburg regions, will be in other regions of European Russia, where incomes are rising and competition is fragmented. As we build out our store base and market share in each region, we can drive major economies of scale: there are many regions where X5 has only a handful of stores and the operating leverage from running common logistics, local sourcing, and spreading fixed overheads over a larger store base is still largely untapped. Over time, we plan to reach a level of 50-60 stores in such regions to unlock that profit potential.
Sustained margins and increased shareholder returns: We see significant opportunities for delivering value for shareholders by continuing to grow our market leadership to drive top-line growth while continuing to increase efficiency to protect profit margins. We are placing increased emphasis on improving net income and maintaining a return on equity of approximately 15% as measures of shareholder value creation in 2012 and future years. We think a sustained focus on this metric is the best way of increasing X5's market valuation relative to Russian and international retail sector peers.
These goals will be supported by changes we are driving across our business, including:
New multi-format organisation: Our multi-format strategy has served us well, off ering stores assortment and value for every consumer lifestyle and budget. In October 2011, we put in place a new organisational management structure and moved all employees into three newly created business units that represent soft discounters, supermarkets and hypermarkets, respectively. This replaces X5's functional organisation (which featured cross-format activities in areas like marketing, pricing, HR, etc.) and puts our format leaders in the driver's seat. They now control decisions on pricing, assortment, category management, marketing and promotions – that is, everything that will make a difference in how our formats go to market and compete for customers. We are also bringing new leadership into the Company and establishing regional P&L responsibilities for operational management to manage our growing scale more eff ectively.
New deal with suppliers: In 2011, X5 took aggressive actions to secure better terms with suppliers and improve the Company's working capital position and gross margin. This approach helped us more than double cash flow generation while keeping prices for our customers the lowest on the market. We also announced that we intend to shift relationships with suppliers to enable our formats to define, select and buy the assortment that the customer wants, not what the vendor wants us to order. We expect this gradual rebalancing of supplier relationships – which we are executing over the course of 2012 – to have a longterm positive impact on our sales while protecting profitability.
Technological and logistical productivity: X5's infrastructure investments are creating fundamental competitive advantages for running our business efficiently. We are working to maximise the power of our technology platform and we now have a great deal more transparency throughout our operations. We started this transformation three years ago with the implementation of SAP for retail and HR modules, while the finance module was rolled out in 2011. With this foundation in place we now plan to upgrade the systems of the stores, logistics and supply chain management to interface with SAP and drive major productivity improvements throughout our retail chain. These investments in software will enable a fundamentally new technological platform in the years to come.
In addition, we will continue to evolve our distribution and logistics model in order to grow profitably in the regions. We now have 29, mostly leased, DCs and a logistics backbone that covers all regions of operations. Over the next few years, we expect to shift to a smaller number of larger, owned warehouses with an expanded Company transportation fleet. This will increase our scale advantages and flexibility, enabling X5 to manage its logistics network and supply chain more efficiently – with productivity benefi ts flowing to the bottom line.
Corporate responsibility: X5 is committed to complying with the highest standards of ethical business conduct while bettering the lives of our employees, our customers and our neighbours in the regions and communities in which we operate. We are a major investor in the development of the Russian economy, directly employing approximately 100,000 people and providing economic opportunity for thousands of local businesses throughout our supply chain. Playing a positive role in Russian society is fundamental to our success, helping us attract and cultivate talented staff and earn customer loyalty.
2012 Objectives
This brings me to the Company's objectives for the coming year:
1. Grow sales and customer base while maintaining profit margins
Our 2012 outlook for organic sales growth of 15% to 20% in RUR terms, with an aim to generate an EBITDA margin above 7%.
On the back of rising oil prices and stable political environment, the Russian economy is expected to perform generally well in 2012, which should provide good prospects for X5 and the retail sector. We expect to deliver strong sales results, particularly in the second half of the year, and will manage the trade-off s between sales, marketing investments and gross margin with the objective of delivering sustainable, profitable growth.
We will continue to focus on efficiency improvements to support our EBITDA margin. This includes introducing new processes and technologies to improve energy consumption, inventory management, in-store and warehouse productivity and transportation fleet management among other areas to off set rising labor, energy and real estate costs in Russia. We will also work with our suppliers to support X5's top-line growth by increasing the volume of promotions in 2012 and shifting towards a more customer focused assortment and value offerings, while managing working capital and gross margin to generate cash.
2. Step up organic expansion and infrastructure investments
The Company has established a 2012 CapEx plan of approximately RUR 45 bln to enable record organic expansion, renovation of older stores and IT and logistics infrastructure development. X5's strong execution in these areas in 2011 gives us confidence that our team will manage this signifi cant increased investment level efficiently.
We are targeting an approximately 18% net increase in retail selling space for the year from 1.7 mln to about 2.0 mln sq. m. Much of the growth in selling space will focus on scaling up in Russian regions outside of the central Moscow and St. Petersburg regions to build our regional market presence and leverage local distribution and sourcing efficiencies. In terms of formats, we expect to substantially increase openings in soft discounters and supermarkets but will add fewer hypermarkets while we fine-tune the business model for this format.
Over 70% of added space will be soft discounters, with supermarkets, hypermarkets and convenience stores taking up the rest.
In addition, X5 will increase investment in maintenance and remodeling of older stores by 50% to bring them up to the standard of our innovative new store models to increase their customer appeal. We will double investments in X5's logistics network compared to 2011, to handle the planned growth in total sales volumes and increase productivity. This includes investments in launching construction of wholly owned DCs and expansion of X5's truck fleet to take control of deliveries from suppliers. In addition, IT and strategic projects spending will increase fivefold as we roll out software systems to interface with SAP, and further pursue projects like energy saving.
3. Deliver progress in each of our formats and build on their strengths
Soft Discounters: X5 holds the number one position in soft discounters and has built Pyaterochka into one of Russia's leading consumer brands with a price leadership position. Customer surveys show that convenience and price are the two factors that matter most for Russian consumers, and on both counts, X5's soft discounters repeatedly win the top ranking. In 2012, we plan to increase promotions and lead the market in offering the lowest prices. We will also step up marketing and communications activities to ensure strong customer awareness of special deals when they are shopping at our stores. In addition, increasing the number of private label offerings and expanding the range of local and regionally sourced products will be important drivers for building customer loyalty and sales at Pyaterochka stores.
Supermarkets: Our Perekrestok supermarkets give us an incredible competitive advantage with middle class customers who value quality, wider choice of fresh goods and customer service. None of our competitors come close to X5 in this format. In 2012, we plan to take our supermarket stores to the next level with upgrades including stricter quality controls and enhanced fresh offerings (especially fruits and vegetables), supported by original promotions and advertising campaigns. We will also upgrade our commitment to customer service through improved employee hiring and training procedures. As always, we will execute a very selective approach to adding supermarkets in areas with the right customer demographics.
Hypermarkets: With the separation of the supermarket and hypermarket organisations and the appointment of a new director for hypermarkets, our goal is to bring uniformity to Karusel's business model and strategy. Our hypermarkets produce impressive EBITDA margin, but sales development has been weak. The format operates with several types of hypermarkets of radically different sizes and does not offer a consistent and diff erentiated experience for the customer. Over the next 12 months, we will move gradually to uniform, smaller-size stores with improved assortment and layout – and create a unique hypermarket value proposition with strong customer appeals. New management priorities regarding the format, among others, are to reduce queues at cash registers to minimize waiting time, enhance fresh category offerings and raise the level of promocampaigns. In addition, decision-making will be decentralized and store managers will be given more flexibility over assortment, pricing and marketing policies to compete for customers in their local communities.
We are determined to deliver on these objectives and will work consistently to increase X5's share price and returns relative to our Russian and international retailing peers. We will also increase our engagement with the investment community to ensure that X5's business developments and prospects are well understood during a period of rapid change. I am encouraged by X5's accomplishments and look forward to reporting on our progress in the coming year.